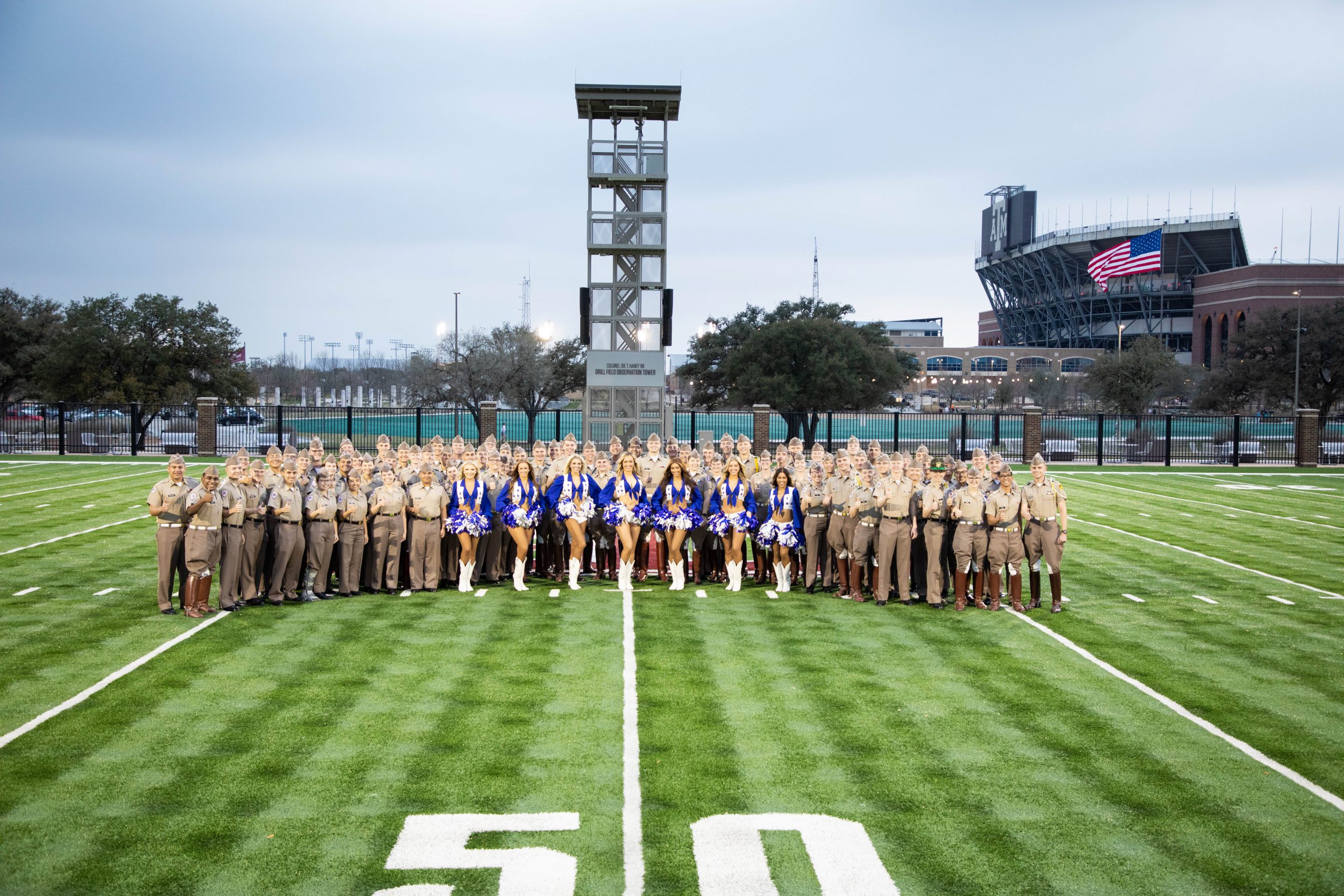 In a good bull story for the ages, cadet Chase Borders '25, of B-Battery in the Fightin' Texas Aggie Band, helped arrange one of the greatest meet ups that the Corps of Cadets has ever seen. 
"While in Arlington for the Southwest Classic, I submitted a form requesting an event with the Dallas Cowboys Cheerleaders. Originally, I didn't think it would amount to much because I figured they get tons of requests. I received an email from their event coordinator asking to schedule a phone call. After a couple phone calls to iron out the details, I was able to pass the event off to the Band Commander, Cameron Paladino '23, to figure out the logistics!"
Once they arrived on campus, the Dallas Cowboy Cheerleaders were welcomed into the Music Activities Center by nearly 150 cadets. During their visit, members of the organization and team director, Kelli Finglass, drew similarities between their organization and the Fightin' Texas Aggie Band. 
"One of the biggest compliments that both of our organizations can get is that we make it look easy, but we know that there's so much work that goes into it. There are so many moving parts to what we do, but practicing with your team makes it all come together for the final product," Finglass said. 
In addition to highlighting the similarities the two teams share, Finglass also shared advice on how to work as a team through challenges and adversity. 
"Going in everyday with that 'I've got this' attitude is what will carry you through. If even one girl on our team has an 'I can't get up' mindset, it is the job of the rest of the team to help her up," Finglass explained. 
After visiting with the team for an hour, cadets in attendance showed the cheerleaders around the Dunlap Drill Field, where they also took photos with the team members and coaches. 
"It was such an honor to get to work with such a prestigious organization. I wasn't expecting the request to grow into something so amazing. It's great to know that a professional organization like the Dallas Cowboys Cheerleaders recognizes the Fightin' Texas Aggie Band and views us with such high regards. Two highly renowned organizations meeting like this doesn't happen very often, so I wanted to help create something that we can hopefully turn into a yearly tradition," Borders said. 
Through "career readiness events", cadets are able to learn from industry leaders about the skills they need to be successful in the workforce. This visit by one of America's most iconic teams is just one of many career readiness  events that are offered to cadets throughout the year. In a unique twist on a traditional career readiness event, cadets heard from the team that has redefined and led the sports entertainment industry for over 60 years.  
In a meeting between nationally famous and world famous, the Fightin' Texas Aggie Band and the Dallas Cowboy Cheerleaders came together to celebrate commonalities and the value of leadership, hard work and tradition. 
"In the Aggie Band, and in the Dallas Cowboy Cheerleaders, we don't mess around with tradition. We celebrate all of our traditions and we respect that we wouldn't be who we are today without our larger organizations. Our team, the Dallas Cowboys organization, is the best of its brand, much like Texas A&M," Finglass said.
Story By: Robin Nelson '22