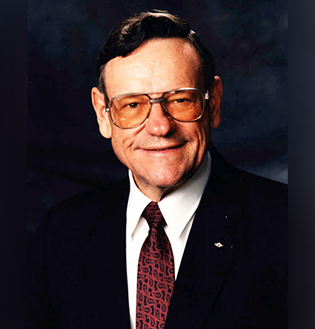 Willy Bohlman received his bachelor's and master's degrees in Civil Engineering from Texas A&M.
Dual careers in the military and the engineering fields mark Bohlmann's commitment to service. After finishing his fish year at Texas A&M in 1946, he was drafted in the U.S. Army and served with the occupation forces in Korea, rising to the rank of staff sergeant. Returning to A&M in 1947, he commanded the 6th Regiment, was President of American Society of Engineers and was a Ross Volunteer.
After completing his master's degree, Bohlmann continued his service with the U.S. Army reserves, serving in numerous command and staff assignments. He retired as a Colonel in 1980, with 34 years of distinguished military service, including exchange assignments with the Royal Australian Forces.
One of the first American businessmen in China, he was an acknowledged expert on Chinese relations, and was invited to share his knowledge with business students at The American University in Washington, D.C.
Bohlmann organized the first-ever Aggie Muster in China in 1984, and has funded numerous scholarships. His personal awards include the U.S. Army's Legion of Merit medal, the first-ever "Model Worker Award" from the People's Republic of China in 1992, Texas A&M's Distinguished Alumni Award in 1995, and in 2000, was one of the first 18 to receive the Civil Engineering department's Distinguished Graduate Award.