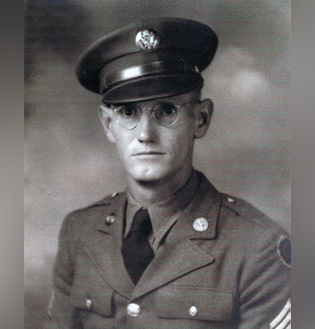 George Keathley enrolled in A&M in 1933 to pursue a degree in Agriculture. He was a member of Troop D, Cavalry in the Corps of Cadets.
Withdrawing from A&M for financial reasons, Keathley worked for the Soil Conservation Service, supervising soil-erosion projects. In 1942, he joined the Army and was assigned to the 338th Infantry Regiment, 85th Keathley was promoted to Staff Sergeant in 1943, and in April 1944 his unit went into action in Italy.
As guide of the First Platoon, Company B, of the Eighty-fifth Infantry Division near Mount Altuzzo, Italy, on September 14, 1944, he was wounded while leading two decimated platoons that had lost all of their officers and noncommissioned officers. Staff Sergeant Keathley's platoons were outnumbered and dangerously low on ammunition.Under deadly mortar and small arms fire, Staff Sergeant Keathley crawled to the casualties, administered first aid, collected their unused ammunition, and distributed it to the remaining members of the platoons. Although mortally wounded in the abdomen he shouted orders and, standing up, continued to inspire his men for fifteen minutes; the rally forced the enemy to withdraw, leaving behind many dead and wounded. Staff Sergeant Keathley died a few minutes later. Without his indomitable courage and inspired leadership the remnants of three platoons of Company B might well have been annihilated.
Staff Sergeant Keathley was the third Texas Aggie awarded the Medal of Honor.