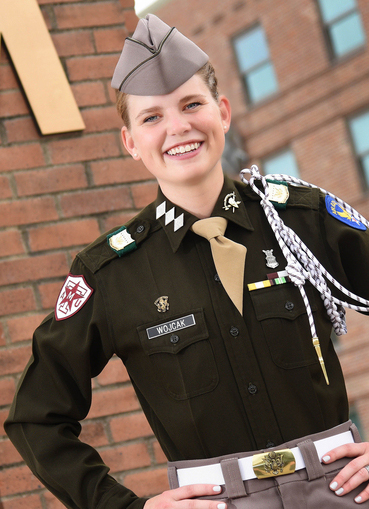 Sara E. Wojcak '18 is a Non-Profit Business Management major from Mustang, OK.  She is the daughter of Michael and Teresa Bailey, and the late Tony Wojcak.
Currently, she holds the position of Deputy Corps Commander.  During her time in the Corps, Sara served as a Squadron 11 Fire Team Leader as a sophomore and the 1st Wing Sergeant Major during her junior year. Sara is also an active member of the Ross Volunteer Company in the Squat Platoon.
Off the quad, she has participated in various mission trips to Nicaragua, South Africa, Brazil, and Guatemala and is also a
2017 Houston Marathon Finisher.  Sara is a member of the Texas A&M Foundation Maroon Coats and serves as the Awareness Coordinator on the Aggie Muster Committee.  She says serving on the Muster Committee has been the highlight of her time at Texas A&M.
"I have gained a better understanding of what it meant to be an Aggie," Wojcak elaborates. "I got the opportunity to read about and meet Aggies who have come before me who have helped create our legacy."
Sara had the opportunity to go on the 2017 Corps excursion to China where she was able to learn about diplomacy, information, military, economics and cultural ties between our two countries. During the trip, she visited the U.S. Embassy in Beijing, the American Chamber of Commerce in Shanghai, and visited the rural city of Qingdao.
Upon graduation, Wojcak plans to commission into the United States Air Force and serve as a logistics officer. After her stint in the Air Force, she desires to work for a non-profit organization that does mission work overseas.