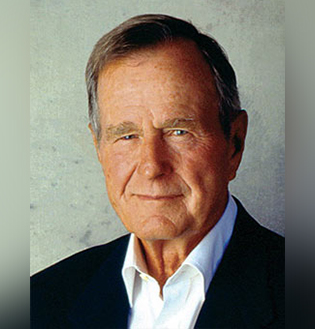 President Bush received his Bachelor's Degree in Economics from Yale University in 1948 after serving as the youngest aviator in the United States Navy during WWII.
During his service, he completed 58 combat missions including one in which he had to bail out of his burning Grumman TBM Avenger aircraft into the sea around the Bonin Islands. President Bush received the Distinguished Flying Cross, three Air Medals and the Presidential Unit Citation awarded to the crew of the USS San Jacinto.
After graduating from Yale, he moved to West Texas, serving as president and then chairman of the Zapata Offshore Company, which specialized in offshore drilling.
In 1966 his interest moved to politics where he served in many prominent governmental positions including U.S. Congressman of Texas, Ambassador to the United Nations, Special Envoy to China, the Republican National Chairman and the Director of the Central Intelligence Agency.
In 1981 he became Vice President of the United States under President Ronald Regan and then became the 41st President in 1989.
President Bush selected College Station to be the location of both The Bush School of Government and Public Service and the George Bush Presidential Library and Museum, which opened in 1995 and 1997, respectively. Since that time, President Bush took an active role Texas A&M University, the Aggie community and the Corps of Cadets.