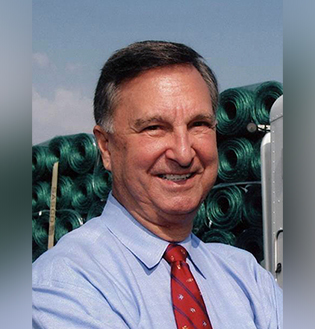 Chaz Neely received his Bachelor's Degree in Business Administration in Marketing from Texas A&M. As a cadet, Neely was a member of Company A Signal and the San Antonio Hometown Club.
Neely began his career in 1963 with Sinclair Refining Company, later moving to the truck leasing division of Hertz Corporation. He joined Knowlton's Creamery in 1970, spending 13 years honing his marketing and distribution skills and gaining senior management experience. In 1979, Neely purchased San Antonio Steel Co. (SASCO), a then small firm which bought large quantities of nails and wire from manufacturers for resale to contractor suppliers and lumber yards.
Today, San Antonio Steel Co. has sales in excess of $37 million with 35 employees. SASCO was named one of the Top 500 Fastest Growing Private Companies by Inc. Magazine and one of the Top 50 Private Companies of San Antonio by the San Antonio Business Journal. Neely was named the Ernst & Young, LLP Entrepreneur of the Year for the Central and South Texas Region in 1997.
He has served as President of the San Antonio A&M Club and is a member of the Chancellor's Century Council, the Mays Business School Development Council, the One Spirit One Vision Campaign committee and the 12th Man Foundation Board of Trustees. He served on the Boards of Directors for The Association of Former Students and the Mays Business School Center for New Ventures and Entrepreneurship.
The Mays Business School honored Neely with the Outstanding Alumni Award in 2005 and he is an inaugural member of the "Aggie 100," recognizing the 100 fastest growing Aggie-led businesses in the world. He was also awarded the Association of Former Students Distinguished Alumnus Award in 2006.
Neely and his wife Trisha have three children, Alison '90, Bradford '94 and Trey '97.