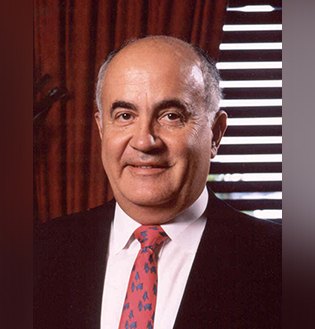 Harris Pappas received his Bachelor's degree in Finance and Accounting from Texas A&M. As a cadet, he was a member of Company F-2, served as junior and senior class Social Secretary, and was Intramural Manager. He was active in SCONA, the Finance Society, and was the Chairman of the Election Committee. Upon graduation, he was commissioned as a 2nd Lieutenant in the U.S. Army, served in Thailand and Vietnam, and was awarded two Bronze Stars and three Army Commendation Medals. Pappas is President of Pappas Restaurants, a privately owned company of over 90 restaurants in 7 states. Until 2011, he served as Chief Operating Officer of Luby's, a cafeteria chain with over 120 locations, and is still involved as a board member. He also serves on the Board of Directors of Oceaneering International.
He credits his success to his father, Jim, and his grandfather, H.D., who came to America from Greece in 1897. Jim and his brothers started Pappas Refrigeration and then later opened The Dot Coffee Shop in 1967, followed by the first Pappas Bar-B-Q. In 1970, Pappas served as general manager of the 3 restaurants the family owned. Today, he has over 30 years of experience in the restaurant industry and is involved in operations and new concept development.
He served 10 years on the Memorial Hermann Healthcare System Board and currently is part of the System Quality Committee. He received the Distinguished Alumnus Award from Texas A&M in 2001 and the Outstanding Alumnus Award from the Texas A&M Mays College of Business in 1999. He has served on the Texas A&M Foundation's Development Advisory Committee, the Texas A&M College of Education Development Council, and participated in the Vision 2020 Task Force. Pappas was a 2009 inductee into the University of Houston's Hilton Hospitality Hall of Honor. Pappas enjoys spending time with his wife, Vicky Marinos Pappas, their six children, and two grandchildren.