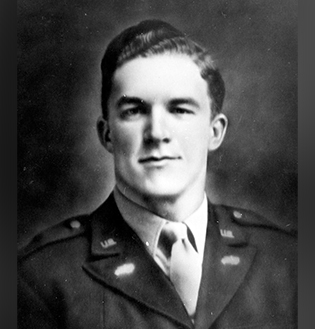 Lieutenant Turney Leonard received his Bachelor's Degree in Agriculture from Texas A&M, graduating at the top of his Class. He was posthumously awarded the Medal of Honor — one of seven Medal of Honor recipients from Texas A&M—for his exceptional bravery and valiant leadership in the battle of Hürtgen Forest near Kommerscheidt, Germany.
During the battle on Nov. 4, 1944, Lieutenant Leonard's 100-man tank destroyer company, the 893rd Tank Destroyer Battalion and over 1,000 infantrymen were trapped between two German divisions when he took command. Finding that most of their officers had been killed, Lieutenant Leonard gathered the men together and walking in front of his tank destroyers, directed fire at the enemy positions. During the battle, his arm was shattered, but he continued directing the assault. Several German snipers were killed and six enemy tanks were destroyed.
Ordered to the aid station where he received treatment, Lieutenant Leonard returned to the battle because he felt the men needed him. His remains were later found and sent to Dallas, Texas for a full military burial. His company commander, Aggie Capt. Marion C. Pugh '42 stated that Lieutenant Leonard was "the bravest man he ever saw."
In November 2000, Lieutenant Leonard's Aggie Ring was returned to his family at a ceremony on the campus of Texas A&M by German Army Capt. Obit Volker Lossner, whose father-in-law found the Ring more than 60 years ago. It is now on permanent display, along with Lt. Leonard's Medal of Honor in the Sam Houston Sanders Corps of Cadets Center.