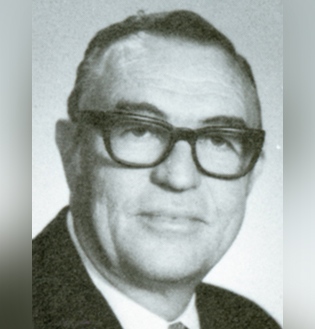 Searcy Bracewell received his bachelor of arts degree in History from Texas A&M. While at A&M, Mr. Bracewell was a member of the Ross Volunteers and drum major of the Aggie Band.
Bracewell has compiled a remarkable record as an attorney, statesman, combat veteran and civic leader. After graduating from A&M, he was admitted to the bar in 1940. During World War II, he served in numerous leadership positions, including the personal staff of General George Patton's Third Army. Bracewell rose to the rank of Major and his personal decorations include the European Theater Medal with five battle stars.
Upon his return from the war, he founded the law firm of Bracewell and Patterson, which today has offices throughout the world. During his two years in the Texas House of Representatives and 10 in years in the Texas Senate, he authored bills creating the University of Texas M.D. Anderson Hospital, the University of Texas Dental College and his bills providing education for mentally retarded children.
In addition to his service to the state and nation, Bracewell remained active in civic and university organizations. He was recognized as the "Outstanding Young Man in Houston" in 1952, received an honorary doctorate of law degree from South Texas College of Law in 1973, the "Humanitarian Award" from the American Cancer Research Foundation in 1977 and the Leon Jaworski Award from the Houston Bar Association Auxiliary in 1996.
Bracewell was designated a Distinguished Alumnus of Texas A&M in 1978 and received the Texas Aggie Lawyer of the Year Award from the Texas A&M Bar Association in 2002.