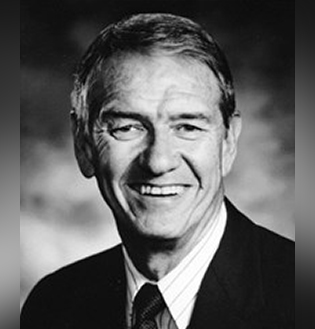 Foster is a Texas businessman, oilman, and philanthropist. From 1989 to 2005, Foster was Chairman, President, and Chief Executive Officer of Newfield Exploration Company, headquartered in Houston.
Previously, Foster was Chairman of Tenneco Oil Company and Executive Vice President and director of its parent, Tenneco Inc. He was with Tenneco for 31 years and also served as Chairman of the Tenneco Gas Pipeline Group.
Foster graduated in 1957 with a Bachelor of Science degree in petroleum engineering and a Bachelor of Business Administration degree in general business. He served in the U.S. Army in 1958.
In 1983, he was one of five to receive the Texas A&M College of Engineering Alumni Honor Award. He has served as a member of the Association of Former Students' Board of Directors, and in 1979, established the Mary Alice and Joe B. Foster Texas A&M President's Endowed Scholarship
In May, 1997, he was named a Distinguished Alumnus of Texas A&M University. Mr. Foster served as Chairman of the National Petroleum Council, an industry advisory body to the U.S. Secretary of Energy in 1997, and in 1995-1996 served as Chairman of the Offshore Committee of the Independent Petroleum Association of America. He was a Director of Memorial Hermann Hospital System in Houston and has served as Chairman of the Houston Museum of Natural Science, the Greater Houston YMCA, and the Texas A&M Development Foundation.