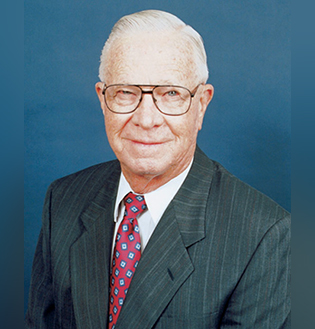 Edward F. Kruse received a bachelor's degree in Dairy Science from Texas A&M.
While a student, he was a varsity letterman in swimming, a member of the Corps of Cadets and honored as a Distinguished Military Student. Shortly after graduation, Mr. Kruse joined family-owned Blue Bell Creameries, Inc.
Mr. Kruse's 50-plus years of service have included positions of General Manager, President, and Chief Executive Officer, and since 1993, Chairman of the Board. His oversight and management of the sales division was instrumental in building Blue Bell into the number three ice cream brand in the country.
Mr. Kruse's professional accomplishments were recognized by his induction into the Texas Business Hall of Fame in 1993 and the Dairy Products Institute Hall of Fame in 1995. He served in leadership positions for the Dairy Products Institute of Texas, the Dixie Dairy Products Association, the International Dairy Foods Association, and the International Ice Cream Association. For 10 years, Kruse served on the Texas Lutheran University Board of Regents.
Texas A&M recognized Mr. Kruse with the College of Agriculture and Life Science Outstanding Alumni Award in 2002 and induction into the Corps of Cadets Hall of Honor in 2003. He has provided students the valuable resources of Blue Bell to enhance their educational opportunities.
He is an ardent supporter of the College of Agriculture and Life Science, the Corps of Cadets, and the George Bush School of Government and Public Service. Born in Brenham, Texas, Mr. Kruse and his wife, Evelyn, have four children, Karen '73, Ken '75 (deceased), Paul '77, and Neil '80 (deceased).