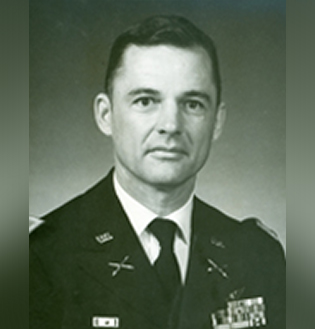 Colonel Thomas R. Parsons '49 graduated from Texas A&M with a Bachelor of Science in Education and a reserve commission in the US Army as 2nd Lieutenant of Field Artillery.
During his 28-year military career he served combat tours in both Vietnam and Korea and was also stationed in Germany and other locations with Hawaii being his last tour of duty.
Colonel Parsons' military awards include the Legion of Merit, Meritorious Service Medal, Bronze Star Medal with One Oak Leaf Cluster, Army Commendation Medal with Two Oak Leaf Clusters, Army Occupational Medal (Germany), National Defense Service Medal with One Oak Leaf Cluster and many other ribbons.
In 1971 Colonel Parsons assumed duties as Commandant of the Corps of Cadets at Texas A&M, a position he held longer than any active duty officer. Colonel Parsons was a driving force in the support and success of Parsons Mounted Cavalry.
Not only did Colonel Parsons revive the cavalry unit, but he also assisted the university in bringing Naval ROTC to Texas A&M in 1972. In 1974 he oversaw the integration of females into the Corps of Cadets and served as a key figure in the women's success in the program.
He retired in 1977. Colonel Parsons' love for Texas A&M and its Corps of Cadets followed him throughout his lifetime.