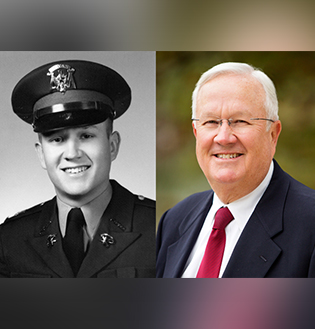 Charles Korbell received his Bachelor of Business Administration Degree in Management from Texas A&M in 1971 and completed the Executive Program at the University of Virginia's Darden School in 1992. As a cadet, Korbell was a member of Company A-1, 1st Battalion Sergeant Major and Battalion Commander, a Ross Volunteer, Town Hall Publicity Chairman, Who's Who and a Distinguished Military Graduate.
Korbell was commissioned into the U.S. Army, served on active duty for training tour and completed his commitment as an Officer in the Army Reserves. He began his career at Clarke American in 1971 and spent his career there serving in Operations and Executive management positions, retiring as President/CEO in 2005. In 2001 Clarke American was awarded the Texas Award for Performance Excellence and was a recipient of the Malcolm Baldrige National Award presented by President George W. Bush. He served on the United Way of San Antonio, Quality Texas Foundation and Junior Achievement of South Texas Boards.
Charles and his wife Cheryl have sponsored a Sul Ross Scholarship and a study room in the Buzbee LLC.
He has served on the Mays School Dean's Development Council, MBA mentor, sponsored a Mays scholarship and was named an Outstanding Alumni of the May's school in 2007. He serves as a '71 Class Agent and a volunteer for the Corps. Charles and Cheryl are proud parents of Allison '99, Brian '01 TLU and Jennifer '03.