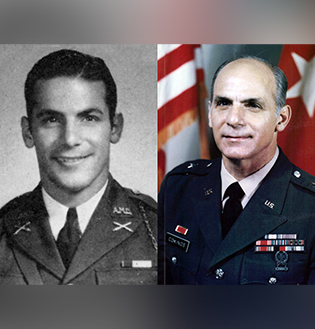 General Cokinos received his Bachelor's Degree in Science from Texas A&M. As a cadet, Cokinos was a member of A-Battery, served as Corps Recreational Officer and as Captain of the basketball team as an all-Southwest Conference point guard.
General Cokinos attended Officer Candidate School at Fort Sill, Oklahoma before heading to Fort Polk, Louisiana for advanced training. His first assignment was with the 8th Armor Division as a forward observer with the 7th Infantry Battalion during the Battle of the Bulge in World War II. General Cokinos participated in the Ardennes, Rhineland and Central Europe campaigns.
Following release from active duty in 1946, General Cokinos entered into the insurance, real estate and construction business in Beaumont, Texas as co-owner of the Cokinos Insurance Agency, Inc. Serving with the Army Reserve and Army National Guard, he held several positions including Battalion Commander of the 17th Artillery Battalion, Chief of Plans for the 75th Division Maneuver Area Command and Commanding General of the 156th QM Command (Petroleum Intersectional) in Albuquerque, New Mexico.
His military honors include the Silver Star, the Purple Heart, the Legion of Merit, the WWII – European Theater Campaign Medal with 3 Battle Stars, the Army of Occupation Medal (Germany) and the American Defense Medal.