The Fightin Texas Aggie Band has a multitude of iconic traits; the Bugle Rank, the intricate formations, and the Block T are just a few of the things that come to mind when you think of the Noble Men of Kyle. 

This year in particular, one aspect of the Fightin Texas Aggie Band is rising to center of attention:

For many, the thought of Aggie bass drummers has become almost entirely synonymous with stout young men marching into Kyle Field on Saturdays. While this association may have been relatively accurate in years prior, a new chapter is being written:

A determined female face has entered the mix. 

Her name is Amanda Lovitt, and she is the loudest, proudest member of the Fightin Texas Aggie Class of 2023. She is a junior in the Fightin Texas Aggie Band, and a proud member of A-Battery. While recounting her time in A-Battery, Lovitt was quick to speak of the support she has received from her buddy class along the way.

"My buddies definitely motivated me, all the way. They have carried me through it all, the laughs and the cries. They have definitely helped me say 'I will not quit' on the bad days," Amanda said. 

With this type of support system, it was easy for Amanda to shoot for the stars with her goals; and so she did. 

Amanda set her sights on becoming a bass drummer very early on in her Corps career.
"What they look for in a bass drummer is both moral character and physical ability. We are supposed to represent the 'Noble Men of Kyle', which means you have to be someone of high moral character that embodies all of the core values of the Corps of Cadets. They don't tell us explicitly, but they start watching us during our fish year for a spot with the bass drummers. At the start of sophomore year, they really start looking at how involved you are. Do you stay late after practice? Do you go to extra practices in your free time? All of these aspects are what they consider, among other things. Of course there are physical drumming tryouts where you learn the basics of playing the instrument, but they really look at what kind of person you are," Amanda explained. 

After two years, Amanda's hard work and determination had finally paid off. She was selected to be one of the Fightin' Texas Aggie Band's newest bass drummers; an honor only given to juniors in the band. 

"When I found out that I had been selected, I was on cloud nine. In the months following, I would randomly think about it and just immediately have the biggest smile on my face. Being a bass drummer is something only juniors are allowed to do. Juniors have the experience, we know the ropes, and we are comfortable with playing such a large instrument. Seniors often want to use their final year to relax and play something more specific to what they like. It's a demanding job," Amanda said.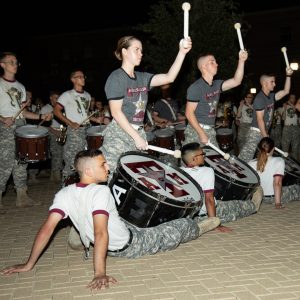 Then, unbeknownst to Amanda at the time of her audition, she discovered another important piece of information about her newly earned title:

She had just become the first female in Fightin Texas Aggie Band history to be named a bass drummer.

"Going into bass drum tryouts, I had no idea that being the first female bass drummer would even be a possibility. It was just something I was going out for because it was something that I wanted. It wasn't until after I made it that a former cadet called me to congratulate me on being the first female. It wasn't something that I had even considered when trying out, but it was definitely something that made me surprised and excited when I did." 

With such a prestigious title bestowed upon her, Amanda is already thinking about the future.

"With this platform, I would like to be able to motivate others. I want to see other young women and tell them that nothing can stop them from achieving their goals. You are the only thing that stands in your way of success, and I want to be able to show young girls that in this position."

In fact, she's already beginning to see how the ripples of her success are being cast out to other young women. 

"At Midnight Yell, I actually had a gentleman come up to me and ask if I was the first female bass drum player. When I told him that I was, he began telling me about how I'm his young daughter's biggest inspiration. For me, that broke my heart in the very best way. That is what being in this position is all about. It is all about inspiring others," Amanda recounted.

Going forward with her role, Amanda has a bit of advice for all women looking to break into predominantly male opportunities.

"Don't let anyone get you down, including yourself. A lot of times, we are our own worst enemy. This can sometimes be multiplied by ten when you're around men, even if they don't mean it. Sometimes you can be seen differently just for being a woman, which can be hard to take.  Don't let that get to you, and don't be afraid to stand up and say 'this is me and I'm here to stay'," Amanda advised. 

Along the way, there have been a number of people that have inspired Amanda. Among them are family members, friends, and her fellow Aggie bandsmen. However, one individual stands out the most to Amanda when she considers her role models.

"Nick Rossi, the Band Commander when I was a freshman, actually sat down with me and had a few conversations with me at different times. He seemed like one of those people that I would never speak to as a fish since he was a senior, but he was so inspiring and he really changed the way I think. He motivated me to be a better cadet and to be a better band member. He had that leader mindset that brought me up to his level," Amanda said.

Though the year has just begun, Amanda is already stepping into her title with poise. She is ready to perform, ready to inspire, and ready to leave her mark on Aggie history as the first (but certainly not the last) female bass drum player.
"When I march, everything else disappears. I go into my own little world. The band is my escape. Nothing in the outside world matters to me when I am performing. I may be the first female, but I know I won't be the last. I hope there are many, many more to come after me. I'm very excited about that," Amanda said.
In such an exciting new chapter of the Fightin' Texas Aggie Band's history, it is easy to become inspired by Amanda's story of determination and resilience. She has already become such a great example for women of all ages. The future is shining bright for all women in the Texas A&M Corps of Cadets, and the opportunities to succeed are limitless. 
By Robin Nelson '22