MEDAL OF HONOR RECIPIENTS
Seven former members of the Texas A&M Corps of Cadets have received the Medal of Honor. The Medal of Honor is the highest award that a member of the United States Armed Forces can receive and is awarded for valor against an enemy force.
The former cadets who have received the Medal of Honor are:
Sergeant George D. Keathley '37
George Keathley enrolled in A&M in 1933 to pursue a degree in Agriculture. He was a member of Troop D, Cavalry in the Corps of Cadets.
Withdrawing from A&M for financial reasons, Keathley worked for the Soil Conservation Service, supervising soil-erosion projects. In 1942, he joined the Army and was assigned to the 338th Infantry Regiment, 85th Keathley was promoted to Staff Sergeant in 1943, and in April 1944 his unit went into action in Italy.
As guide of the First Platoon, Company B, of the Eighty-fifth Infantry Division near Mount Altuzzo, Italy, on September 14, 1944, he was wounded while leading two decimated platoons that had lost all of their officers and noncommissioned officers. Staff Sergeant Keathley's platoons were outnumbered and dangerously low on ammunition.Under deadly mortar and small arms fire, Staff Sergeant Keathley crawled to the casualties, administered first aid, collected their unused ammunition, and distributed it to the remaining members of the platoons. Although mortally wounded in the abdomen he shouted orders and, standing up, continued to inspire his men for fifteen minutes; the rally forced the enemy to withdraw, leaving behind many dead and wounded. Staff Sergeant Keathley died a few minutes later. Without his indomitable courage and inspired leadership the remnants of three platoons of Company B might well have been annihilated.
Staff Sergeant Keathley was the third Texas Aggie awarded the Medal of Honor.
Major Horace S. Carswell, Jr. '38
Horace Carswell studied agriculture at the Agricultural & Mechanical College of Texas before transferring to Texas Christian University where he graduated with a Bachelor of Science degree in Physical Education and a minor in History.
He enlisted in the U. S. Army Air Forces in 1940, as a flying cadet in Dallas and trained at Tulsa, Okla., and Kelly and Randolph fields in Texas. He instructed at Randolph and Goodfellow fields with a promotion to First Lieutenant in February 1942. After duty as a flight instructor at Davis Monthan Field, Ariz., and Biggs Field, Texas, he was promoted to Captain in December 1942. In January 1943, Captain Carswell was assigned to the 356th Bomb Squadron at Clovis Army Air Field, N.M., where he was promoted to Major in April. He was then transferred to the 302nd Bomb Group at Langley Field, Va., in operations and group command assignments. In April 1944 Major Carswell was assigned to the 308th Bombardment Group, where he commanded a detachment of B-24 bombers in Liuchow, China.
On the night of 26 October 1944, Major Carswell was on a one aircraft mission to attack a Japanese convoy in the South China Sea. During the attack, he encountered heavy antiaircraft fire. After two engines were shot out, and the hydraulic system and one gas tank were damaged, Carswell's crew bailed out. Major Carswell remained with his aircraft and attempted to save his wounded copilot and another crew member, whose parachute was damaged. All three were killed when the aircraft crashed into a mountain.
Major Carswell was the fourth Texas Aggie awarded the Medal of Honor.
Lieutenant Eli L. Whiteley '41
li Whiteley received his Bachelor's Degree in Agronomy and his Doctorate Degree in Soil Physics from Texas A&M and his Master's Degree in Agronomy from North Carolina State.
In 1942, six months into his studies for his master's degree he joined the United States Army where he served as a First Lieutenant in Company L, 15th Infantry, 3rd Infantry Division.
Dr. Whiteley was promoted to Captain and received the Medal of Honor – one of seven Medal of Honor recipients from Texas A&M – for his exceptional bravery and valiant leadership in the savage house-to-house battle through the fortress town of Sigolsheim, France in December, 1944. He was presented the Medal of Honor by President Harry S. Truman in 1945.
After the war, he returned to North Carolina State completing his degree in 1948 and then receiving his Ph.D. from Texas A&M.
Captain Whiteley taught at Texas A&M while researching plants, including important work with the kenaf plant and soil management and was eventually named a Professor Emeritus of the Department of Soil and Crop Sciences.
Captain Whiteley's Medal of Honor is on loan to the Sanders Corps of Cadets Center and is currently on display.
Both a memorial park and dormitory on the Texas A&M campus
have been named after Captain Whiteley. As a cadet, he was a member of the Headquarters Cavalry.
Lt. Turney W. Leonard '42
Lieutenant Turney Leonard received his Bachelor's Degree in Agriculture from Texas A&M, graduating at the top of his Class. He was posthumously awarded the Medal of Honor — one of seven Medal of Honor recipients from Texas A&M—for his exceptional bravery and valiant leadership in the battle of Hürtgen Forest near Kommerscheidt, Germany.
During the battle on Nov. 4, 1944, Lieutenant Leonard's 100-man tank destroyer company, the 893rd Tank Destroyer Battalion and over 1,000 infantrymen were trapped between two German divisions when he took command. Finding that most of their officers had been killed, Lieutenant Leonard gathered the men together and walking in front of his tank destroyers, directed fire at the enemy positions. During the battle, his arm was shattered, but he continued directing the assault. Several German snipers were killed and six enemy tanks were destroyed.
Ordered to the aid station where he received treatment, Lieutenant Leonard returned to the battle because he felt the men needed him. His remains were later found and sent to Dallas, Texas for a full military burial. His company commander, Aggie Capt. Marion C. Pugh '42 stated that Lieutenant Leonard was "the bravest man he ever saw."
In November 2000, Lieutenant Leonard's Aggie Ring was returned to his family at a ceremony on the campus of Texas A&M by German Army Capt. Obit Volker Lossner, whose father-in-law found the Ring more than 60 years ago. It is now on permanent display, along with Lt. Leonard's Medal of Honor in the Sam Houston Sanders Corps of Cadets Center.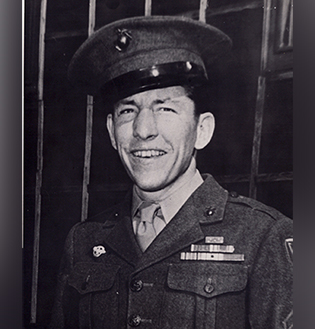 Sergeant William G. Harrell '43
William Harrell studied Animal Husbandry at the Agricultural & Mechanical College of Texas and was a member of Troop C, Cavalry.
In July, 1942, Harrell enlisted in the U.S. Marine Corps, completing basic training at the Marine Corps Recruit Depot in San Diego, California. At Headquarters and Service Company, 2nd Battalion, he was promoted to Corporal. In February 1943,  Corporal Harrell went overseas with Company A, 1st Battalion, 28th Marines, Fifth Marine Division. The division landed on Iwo Jima on February 19, 1945.
Sergeant Harrell and PFC Andrew Carter held a foxhole on a ridge, some twenty yards forward of the company command post, when Japanese troops infiltrated the lines in the early morning hours of March 3. They shot several of the advancing enemy until Carter's rifle jammed. While Carter left to obtain another weapon, the assault on Sergeant Harrell continued.An enemy grenade tore off his left hand and fractured his thigh. Killing two of the enemy, Sergeant Harrell then challenged more enemy troops who charged his position, and placed a grenade near his head. Dispatching one man with his pistol, he grasped the grenade with his right hand and, pushing it, saw his remaining assailant destroyed, but his own hand severed in the explosion. By dawn, the enemy had withdrawn leaving twelve dead around the foxhole. His commander later called Sergeant Harrell's position the "two-man Alamo."
Sergeant Harrell was presented his Medal of Honor by President Harry S. Truman at the White House on October 5, 1945 and promoted to Staff Sergeant upon his discharge from the Marine Corps in 1946.
Staff Sergeant Harrell was the seventh Texas Aggie awarded the Medal of Honor.
Lieutenant Lloyd H. Hughes '43
Lloyd "Pete" Hughes studied Petroleum Engineering at the Agricultural & Mechanical College of Texas, where he was a member of Company G, Infantry.
Lieutenant Hughes enlisted in the Army Air Corps in January 1942 as an Aviation Cadet, earning his pilot's wings later that year. Commissioned as a Second Lieutenant in 1943, he was assigned to the 564th Heavy Bombardment Squadron, 389th Heavy Bombardment Group. Initially sent to Africa, Lieutenant Hughes began his participation in five combat missions in the Italy-Romania area.
During Operation Tidal Wave, 178 B-24 Liberator heavy bombers took off on an 18-hour, 2,400-mile round-trip mission to destroy the largest of the Nazi-held oil refineries at Ploieşti, Romania. Flying through intense anti-aircraft fire, the plane was severely damaged, leaking gas from the bomb bay and left wing tanks.
Instead of attempting a forced landing of his damaged aircraft before reaching the target area, Lieutenant Hughes elected to continue on, rather than jeopardize the success of the mission. He flew into a wall of fire at 30 feet above the ground and dropped his bomb load with precision. After completing his bomb run, his aircraft cartwheeled into the ground. Of the ten-man crew, Lieutenant Hughes and six others were killed on August 1, 1943. Of the survivors, one died of his wounds and two became prisoners of war.
Lieutenant Hughes was the first Texas Aggie awarded the Medal of Honor.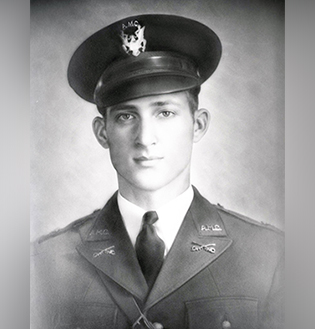 Lieutenant Thomas W. Fowler '43
Thomas Fowler graduated from the Agricultural & Mechanical College of Texas with a Bachelor of Science degree in Animal Husbandry.
He was commissioned a Second Lieutenant in the U.S. Army after completing his military training at the Armor Officers Candidate School in Fort Knox, Kentucky. On May 23, 1944, near Carano, Italy, Second Lieutenant Fowler came upon two disorganized infantry platoons halted in their advance by a minefield. Though a tank officer, Second Lieutenant Fowler reorganized the men and cleared a route through the minefield, removing the mines one by one with his bare hands. After clearing a path, he returned to the squad and led them through the minefield before scouting out a route for them to continue their advance. He crossed the minefield again to lead the tanks through and directed them to positions to support the infantry. Second Lieutenant Fowler then went ahead of the infantry to scout and captured several German soldiers.
Detecting a gap in the American advance, he directed the infantry and tanks into position to fill it. The enemy counterattacked with tanks, setting one of Second Lieutenant Fowler's tanks on fire. Disregarding his own safety, Second Lieutenant Fowler tended to the wounded tank crew. Fowler and the tank crew were under intense enemy fire for thirty minutes before the German tanks were almost on top of their position. After being forced to withdraw from the tank, he gave first aid to nine soldiers while still under enemy fire. For his actions that day, Second Lieutenant Fowler was awarded the Medal of Honor. Second Lieutenant Fowler was killed near Rome in combat by an enemy sniper only eleven days later.
Second Lieutenant Fowler was the second Texas Aggie awarded the Medal of Honor.
Most of the actual medals are on display in the Sanders Corps of Cadets Center.