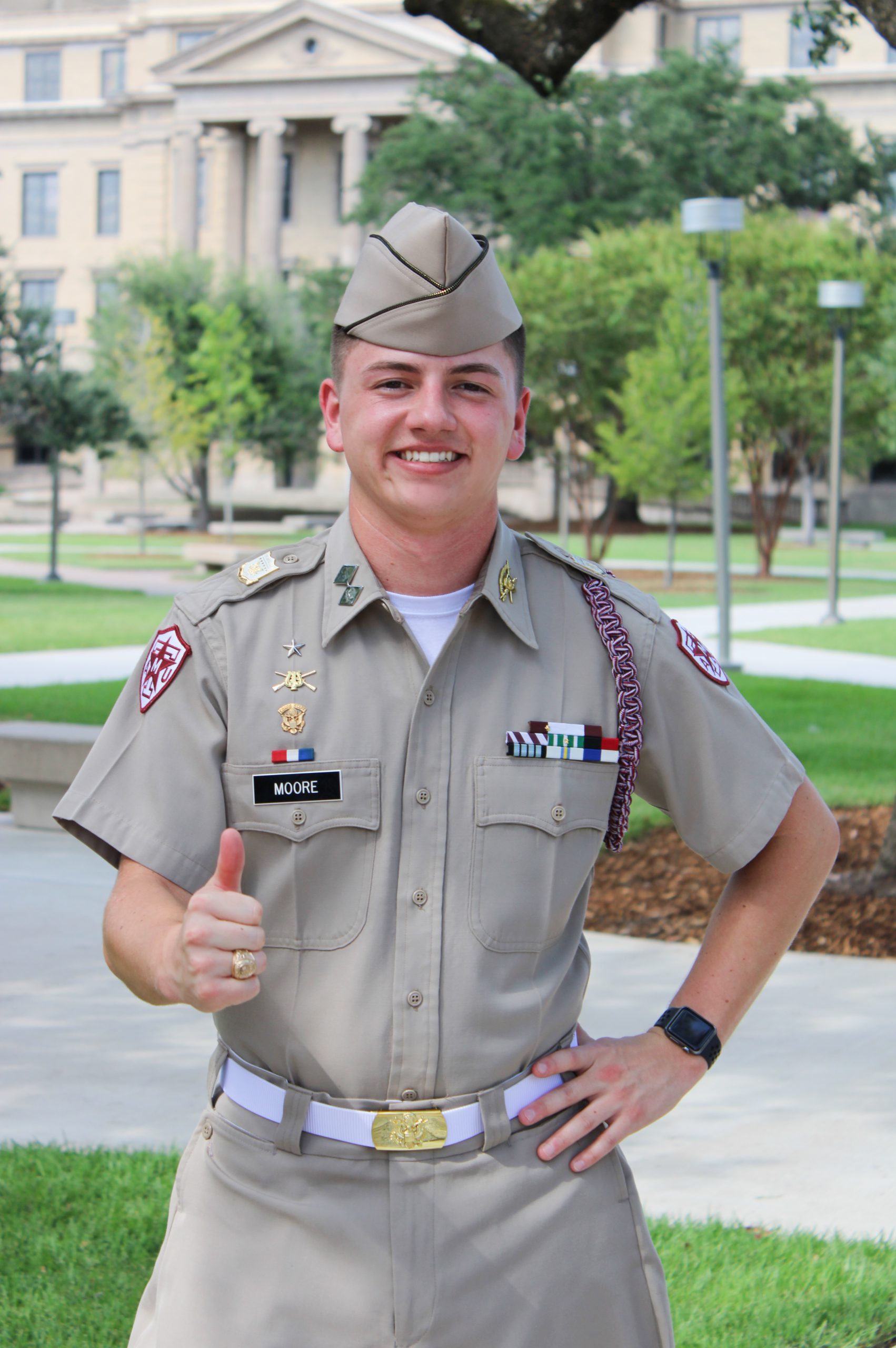 Hometown: Orange, Texas
Major: Communication Studies with a minor in Entrepreneurship
Outfit: A-Company
Nolan Moore '22 is a currently a member of Corps Staff, where he serves as the Career Readiness Officer. Previously, Nolan was a member of A-Company in The Fightin' Texas Aggie Band. 
"I lead 23 people directly and provide multiple resources, including this year's new CR website, for cadets to use through their journey in the Corps and Texas A&M. I work closely with the Hollingsworth Center for Ethical Leadership, where we help cadets increase their skills in 12 different competencies. I have also interned at the Hollingsworth Center for Ethical Leadership as their career readiness intern," he said. 
Off the Quad, Nolan participates in the Sales Club as well as Aggie Network Student Ambassadors. Last spring, Nolan was elected as one of The Class of 2022's Class Agents. In this position, he serves as a liaison between The Association of Former Students and the Class of 2022. This year, Nolan also volunteered as the Performance Coordinator for the 2021 Dash for Downs Syndrome that was held at the Wolf Pen Creek Amphitheater on October 3rd, 2021.  
"The Corps has truly helped me become a well-rounded person. I am thankful for the people I have met and worked with. Marching on Kyle Field on Saturdays and being able to participate in all of the Corps traditions have truly been a huge blessing. I had no clue how much the Corps would develop and push me, and I am truly grateful I bought into the program and let it shape me to be the man I am today," he says. 
Upon his graduation in December of 2022, Nolan plans to work for Dell Technologies in Austin as a Technology Inside Salesman. Nolan hopes to one day return to College Station, where he would like to open his own business.