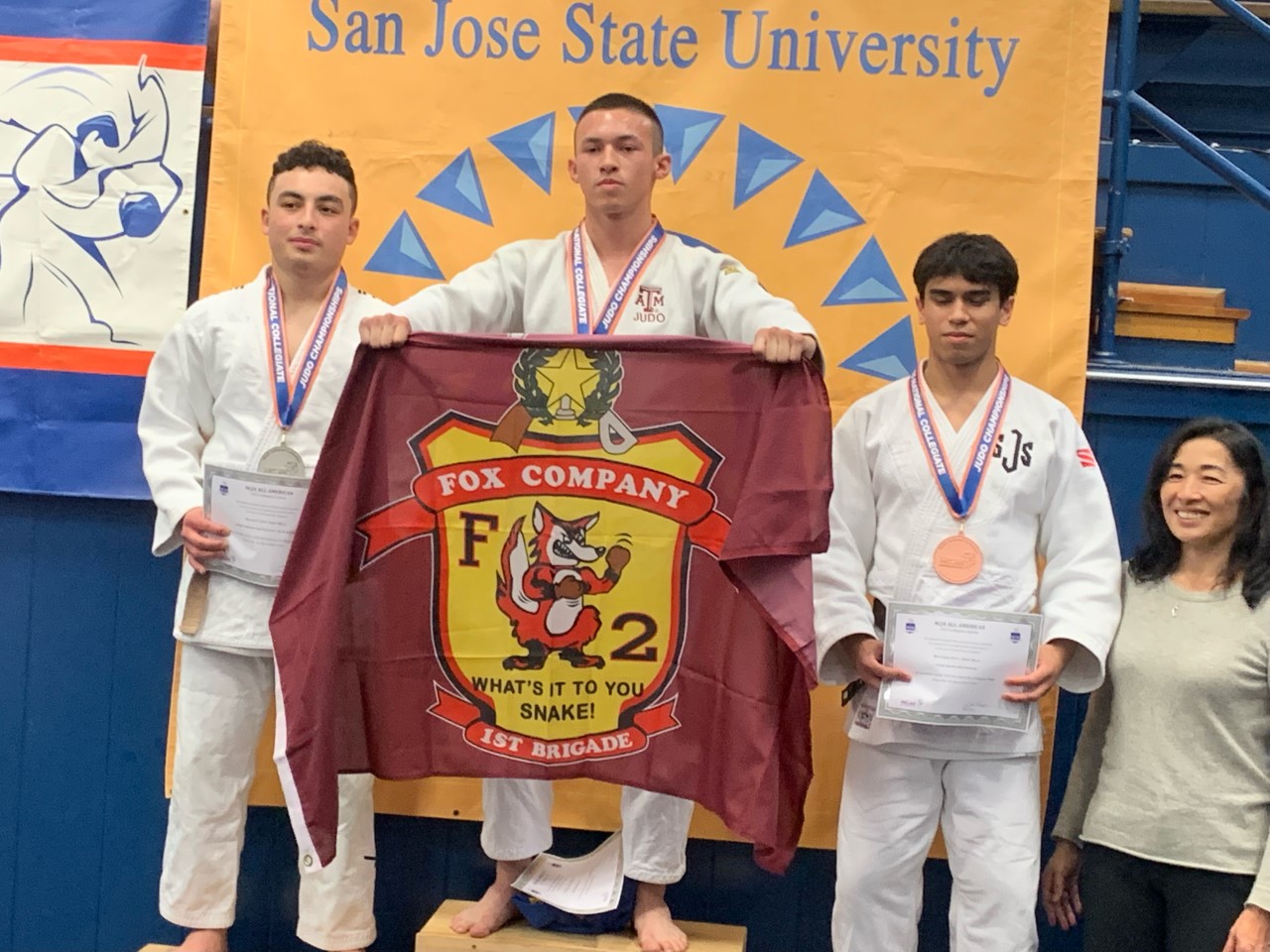 The Corps of Cadets is home to students with a variety of interests, hobbies and career goals. Among these students is cadet Steven Salazar '26, a Kinesiology major from Whittier, California. Throughout his time in the Corps, Steven has continued his passion for judo. 
 "I actually learned about the Corps through a former cadet at a judo competition. In Utah, at the Youth Nationals in 2021, I met my current coach, Bob Perez, by coincidence. He gave me more information about the Judo program at A&M and introduced me to former cadet, Michael Mutz, who then spiked my interest in joining the Corps," Steven said. 
As a member of the Texas A&M Judo team, Steven has competed on the national stage, carrying the lessons he learned as a member of the Corps with him along the way. 
"I recently competed in the National Collegiate Judo Association (NCJA) Collegiate National Championship, where I placed first. This was a highly competitive tournament in which student-athletes from across the United States competed," Steven said. 
"Something that I have learned from my experience thus far in the Corps of Cadets is that discipline, hard work and proper time management are crucial elements in being successful. While training for this tournament, I was diligent in my work ethic, as I was disciplined enough to attend as many practices as I could, even after a long day. I feel that this perseverance led to my success at the tournament."
With his hard work paying off in the NCJA Collegiate National Championship, Steven will now represent the United States and Texas A&M on the world stage in China this summer. 
"Winning this tournament qualified me to compete at the World University Games, which is held in Chengdu, China from July 27th through August 2nd. I am very excited to represent my country, Texas A&M, the Corps and Company F-2 at the World University Games. This is only the next step for my judo career, as it's a goal of mine to compete in the Olympics someday. I plan to continue to work diligently in order to achieve this goal," Steven said.
When considering what the Corps of Cadets has done for him, Steven shared some words of advice to those who may be interested in joining the organization. 
"The Corps has developed me as a leader by placing me in high stress situations that require me to act accordingly under pressure. Being able to make important decisions while under stress is an important skill for leaders to understand and practice. The Corps is a challenging investment that will reward you with many life lessons, experiences and opportunities in the future." 
As Texas A&M's premier leadership organization, the Corps of Cadets provides students with the necessary tools to succeed within the organization, in the classroom and in their outside endeavors. As a cadet and a member of the Texas A&M Judo team, Steven has taken full advantage of the opportunities available to him on Texas A&M's campus. 
Story By: Robin Nelson '22