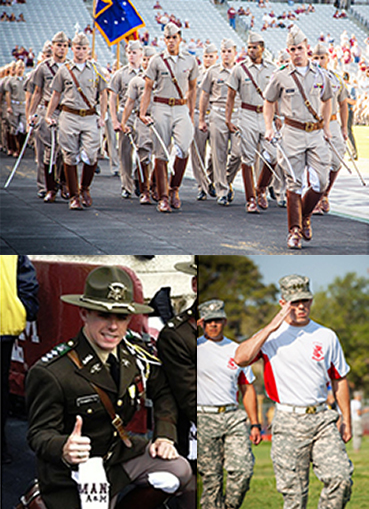 Taylor Rammrath '14 is a Construction Science major from Sugar Land, Texas, and is the son of Stephanie and Ken Rammrath. Taylor is a first generation Aggie and serves as the 1st Wing Commander for the 2013 – 2014 school year.
Active within the Corps, Taylor is a member of Squadron 17, and serves as the Ross Volunteer Company Banner Bearer. He was named Most Outstanding Fish in his Outfit and Most Outstanding Sophomore of his Wing.
Outside the Corps, Taylor is a member of the Texas A&M Associated General Contractors and a founding member of the Construction Science Focused Industry Relations Support Team.
Taylor began his college career at Texas A&M – Galveston before transferring to the main campus and joining the Corps. Although he completed his freshman year at Galveston, he chose to start his Corps career as a freshman to experience his full four years. Facing a tough year as a freshman cadet due to some personal tragedies, Taylor credits the Corps and his fellow cadets – especially his 'fish buddies' to helping him overcome adversity and grow into the leader he has become. He proudly serves as not only as a commander, but mentor to his fellow cadets, using his personal perspectives and experiences to inspire others to persevere through the tough times as well as the good to reach their goals in life.
Upon Graduation in May 2014, Taylor plans to commission as a Second Lieutenant in the United States Army after his Leader Development and Assessment Course (LDAC) at Fort Knox, Kentucky. He hopes to become an Army aviator upon graduation form LDAC.
Taylor's path to the Corps was a bit different than our average cadet, but he found a niche as a leader and has flourished in this role. I admire Taylor's resolve when faced with adversity and his positive attitude in moving forward with his life. He is known for his positive attitude and his ability to inspire others to strive for success no matter what obstacle may come their way. Mature beyond his years, he has a calm and professional approach to his duties as a Major Unit Commander, and his cadets are fortunate to have his leadership. Taylor is a proven leader and mentor, and I have great confidence in his abilities. He is going to be a superb Army officer, and will no doubt achieve success in the future, no matter what he chooses to do. Taylor truly embodies the traits of "Soldier, Statesman, and Knightly Gentleman" that members of the Corps are known for in every field of endeavor – especially the military. I look forward to seeing him go on to great success in the future.