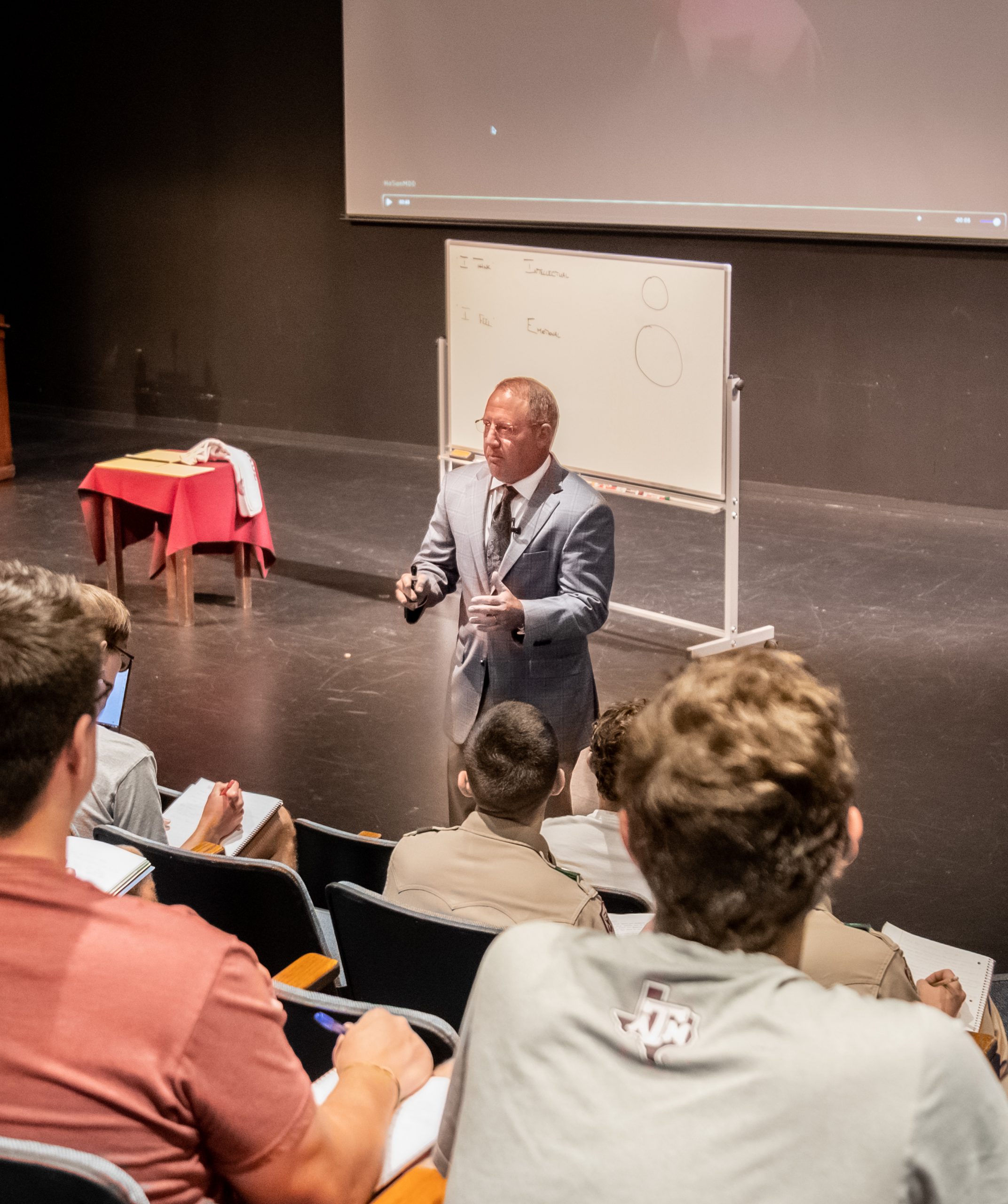 As one of the nation's top leadership development organizations, the Texas A&M Corps of Cadets provides students with many top tier resources to prepare them for success far beyond graduation. Among these resources is the Hollingsworth Center for Ethical Leadership. Through the Hollingsworth Center, cadets can partake in several leadership courses that aim to set them up for success in their future careers.
"The Hollingsworth Center works primarily with students who are not going into the military upon graduation, although we certainly have several that do. Our SOMS [School of Military Science] program of study begins during the spring semester of their sophomore year, where we focus on helping cadets find their strengths and lead from a perspective of authenticity," Dr. Dave Keller, Director of the Hollingsworth Center, said. 
In the fall of their junior year, cadets take SOMS 380: Workshop in Leadership Education.
"SOMS 380 is the second course for our students. It focuses heavily on finding their leadership constraints and blind spots, and then developing an action plan to intentionally improve in these critical areas. In later semesters, students learn more about the science of leadership, along with how to lead teams and organizations more effectively," Keller said. 
Within SOMS 380, students learn from professors of practice who are leaders in their own fields. In the Fall 2022 semester, cadets in this course enjoy recurring presentations from Texas A&M Men's Basketball Coach, Buzz Williams. 
"​​We are extremely excited to have Coach Williams partnering with us for this course. First, it shows Coach's commitment to the students at Texas A&M goes far beyond wins and losses on the basketball court. It shows how committed Coach is to helping students grow and develop into the best leaders – and people – they can be. We're thrilled that he is partnering with us. It is important to say that this isn't just a one-shot 'guest speaker' event. Coach Williams has committed to working with our students throughout the semester," Keller said.
With these semester-long partnerships in place, students taking courses offered by the Hollingsworth Center are more equipped than ever to explore their potential to grow as leaders.
"Whenever cadets can learn from a presenter such as Coach Buzz Williams, there are many opportunities for personal and professional gain. It could reinforce what they are already learning in SOMS, or present a new concept, or allow them to hear something that applies to their life right now. There are countless opportunities to benefit from an experience like this. Coach Williams is a high achiever, lifelong learner, and very enthusiastic about teaching. He has so much to offer and we are thrilled with this partnership," Dr. Darin Paine, Associate Director for the Hollingsworth Center, said.
During Coach Williams' first lesson, he described the impact of one's leadership, and how it reaches far beyond the immediate individuals that they are assigned to lead.
 "You're not just leading yourself. You're leading yourself, your organization and their families. If you learn to process information unselfishly… there is no ceiling for your leadership possibilities," Williams said.
With the Hollingsworth Center's four year Corps Leadership Development Model in place, students in the Corps are taught how to develop themselves, others, teams and organizations as they progress through their college career. Through this development model and carefully structured courses such as SOMS 380, the Hollingsworth Center provides cadets with the necessary tools to be successful in any profession they choose to pursue.  
"Cadets are, first and foremost, students at Texas A&M. They all are gaining knowledge and expertise in their respective career areas through their individual college and academic programs. What we do is go beyond their technical education by providing a set of top-tier opportunities for them to grow in their leadership and character. In doing so, we make students across the campus better able to lead well in an increasingly complex world – regardless of their academic major or career intentions. Perhaps now more than ever, the world needs leaders of character who are prepared to meet the global challenges of the future. We help prepare them to do exactly that," Dr. Keller said. 
From leadership development to career readiness lessons, the Hollingsworth Center has consistently served as an incredible resource for cadets to succeed academically, and in their professional and personal lives. For more information about the Hollingsworth Center for Ethical Leadership, visit here.
Story By: Robin Nelson '22