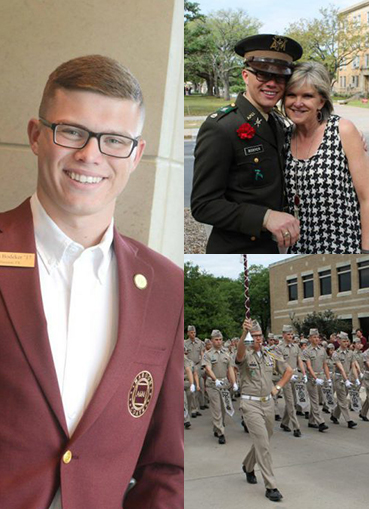 Ross Bodeker '17 is an electrical engineering major and business minor from Houston, TX.  He is the eldest son of Robin '76, and Ann '80 Bodeker. His sister, Hannah '19, is a sophomore at Texas A&M.
Ross is a member of A Battery in The Fightin' Texas Aggie Band.  He has served as a Fire Team Leader, Platoon Sergeant, and a member of the Recruiting Chain within his unit.  This year Ross serves as the Artillery Band Drum Major for the 2016-2017 academic year.
Ross has also had the privilege of working with the Nichols Rising Leaders Conference, the O.R. Simpson Honor Society, and the Ross Volunteers.  This year, he serves as a Squad Leader in the Ross Volunteers for the Meatball Platoon.
In August of 2016, Ross joined 4 other cadets on a journey to Hanoi, Vietnam to attend the United Scholars Leadership Symposium (USLS).  The USLS is an international symposium focusing on global humanitarian affairs.  Ross and his fellow cadets returned home armed with a greater understanding of significant global issues and different perspectives on how to deal directly with those issues.
Ross is also actively involved in a variety of activities and organizations on campus.  He is a member of the Texas A&M Foundation Maroon Coats, which aims to enhance the impact of the Texas A&M Foundation through Ambassadorship, Stewardship, and Selfless Service.  Additionally, he is a member of the Old Army Gentlemen's Society, a social organization for leaders on campus.
Ross has also been involved with Fish Camp, Traditions Council, The Big Event, and the Dwight Look College of Engineering Ambassadors.  Ross enjoys playing his trombone in both the Aggieland Orchestra and the Texas A&M Wind Symphony.
Due to his service to campus life, Ross was awarded the Buck Weirus Spirit Award in April of 2016, which honors students who demonstrate high involvement and impact to student life at Texas A&M. Ross recently completed an internship with the Valero Energy Corporation working as an electrical engineer at their Bill Greehey Refinery in Corpus Christi.  Upon graduation in May of 2018, he hopes to continue working in the oil & gas industry with plans to return to school to pursue an MBA in the future.
Ross is an outstanding young man with a bright future.  He represents and embodies the very best that our Corps has to offer. He is a leader of impeccable integrity, and leads by example in all that he does. I know he will go on to great success in all that he does upon graduation from Texas A&M. He is one of our very best!