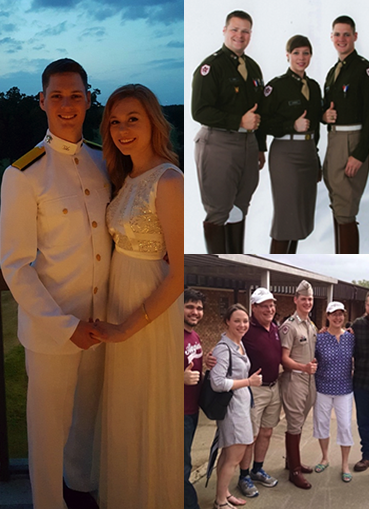 Robert Jaska '16, a senior from Katy, Texas, majoring in Manufacturing and Mechanical Engineering Technology. He is the youngest son of Matthew '82 and Gretchen '84 Jaska, and has three older siblings, all of whom have been members of the Corps of Cadets and the Fightin' Texas Aggie Band – Pamela '10, Paul '11 and Michael '14. Robert is currently the Executive Officer of C Battery in the Aggie Band.
Rob started as a Fish in B Battery, but his sophomore year he changed outfits to be a Team Leader in the newly reactivated C Battery. His junior year, he served as a Platoon Sergeant and became a member of the Ross Volunteers. He currently serves as the flag bearer for the RV Company. In the summer between his junior and senior year, Robert participated in the Corps Global Excursion program that travelled to Germany and Poland.
Outside of the Corps, Robert has served as a counselor for the Boy Scouts of America National Youth Leadership Training program, the TAMU Chapter socials chair of Kappa Theta Epsilon (the national honor society for internship and co-op students), and is a member of the Society of Manufacturing Engineers. Robert is also a member of the Knights of Columbus at his church.
Robert has completed several internships in the manufacturing and oil & gas industries, and will work as in engineering intern for FMC technologies this summer. Upon graduation in December 2016, Robert plans to enter the oil and gas industry and marry his high school sweetheart, Elizabeth Waters.
We wish Robert the absolute best in all of his future endeavors. Robert is an outstanding cadet who works hard, leads by example, and can accomplish any mission that he is given. I have no doubt that Robert will continue to set the standard in all that he does, and will go on to great success in the oil and gas industry. Best wishes to Robert and Elizabeth!