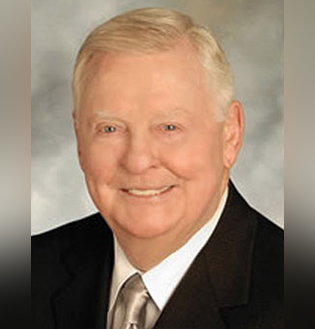 Don Adam received his Bachelor of Business Administration in Insurance from Texas A&M. He served three years in the U.S. Army achieving the rank of Captain.
Adam began his career in the insurance business in 1961 establishing his own business, the CRA Company in Bryan, Texas. He transitioned into the cable television industry, first founding Community Cablevision in 1969 and then American Cablevision Corporation six years later, both in the College Station-Bryan area. In the mid-1980s, Adam formed a realty company, TAC Realty Inc. – now known as Adam Development Properties, L.P. which also led to the formation of a construction company, Madison Construction, L.P., that handled the construction of the Texas A&M Bonfire Memorial project. Adam was also very instrumental in the development of Miramont, a master-planned residential and golf course community in Bryan.
In 1988, he sold his cable companies and looked to new areas in which to invest, transforming 14 insolvent institutions into a very large and profitable banking enterprise that would eventually become part The Adam Corporation/Group. In 2006, Adam started a new bank – American Momentum Bank, headquartered in Orlando, Florida, with branches in Texas as well.
He has served as a member of the Texas A&M Vision 2020 Committee, the Chancellor's 21st Century Council of Advisors, the President's Council of Advisors and is a former chairman for OPAS. Adam has made significant donations to many organizations within Texas A&M and he received a Master Entrepreneur Award and an Outstanding Alumnus Award from the Mays Business School. As a cadet, Adam served on the 2nd Regiment Staff and held the rank of Cadet Major.