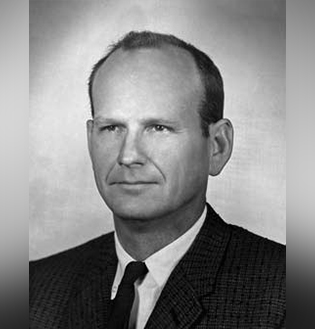 Hughes Seewald graduated A&M with a Bachelor's degree in Science. World War II mobilization prompted early graduation for his class and cut short his study of Veterinary Medicine. Awarded a regular Army commission, Seewald was assigned to the 1st United States Cavalry and taught equitation at Ft Riley, Kansas pending his unit's deployment to the Pacific.
Allied liberation of the Philippines brought intense combat and Seewald was severely wounded during heavy artillery fire while securing a bridge across the Pampanga River on the island of Luzon. After his heroic action recovering the dead and wounded during the evacuation, Seewald was promoted to major and awarded the Silver Star and Purple Heart. Spending almost two years in military hospitals, he retired with a medical discharge.
Major Seewald returned to Amarillo entering the oil and gas business and marrying Katherine Lynn. An active rancher, he and his family also raised and showed Morgan horses. He served as a director of the National Morgan Horse Association. Always close to his Army unit, he served as 1st Cavalry Association President in 1965.
A staunch supporter of the Corps of Cadets, he served as Vice Chairman of the Development Council and funded 12 Sul Ross Scholarships. Buddy enjoyed taking his scholarship cadets out for a good meal twice a year.
Major Seewald was one of four who pledged the initial funding for the Sanders Corps of Cadets Center and co-donated funds for the Parsons Mounted Cavalry Headquarters Building located at Fiddler's Green. As a cadet, he served as Commanding Officer of First Squadron Staff and held the rank of Cadet Major.