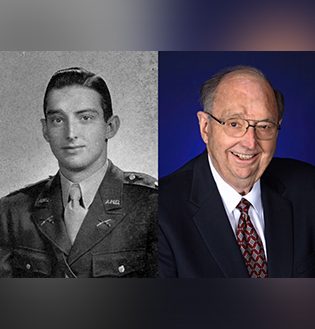 Bob English received his Bachelor's Degree in Economics from Texas A&M. As a cadet, he served as Commander of Company F Infantry.
English was an accomplished businessman who founded English Color & Supply, Inc. in 1946. The company evolved from selling automotive batteries out of a panel truck to becoming one of the largest distributors of automotive paint and supplies with 41 locations in six states.
Throughout his career, English worked tirelessly as an active leader in the automotive industry and his community, in various associations and committees to promote and foster the industry. He was also a 32-degree Mason, of the A.C. Garrett Masonic Lodge in Dallas.
English was known by his friends for his love of a good Aggie joke, so much so that he was given the nickname "Aggie Bob", with which he was identified for decades.
He served on the President's Corps of Cadets Board of Visitors and was an Endowed Member of The Association of Former Students. English endowed a Sul Ross Scholarship, a Corps of Cadets Association Scholarship, and the Mitzi and J.R. "Bob" English '46 Dean's Endowed Scholarship with the Texas A&M Mays Business School.