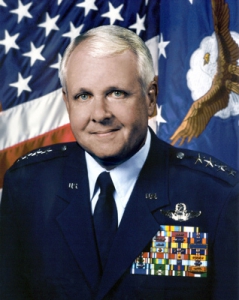 General Hal Hornburg received his Bachelor of Business Administration in Finance from Texas A&M and his Master's Degree in Human Resource Management from the University of Utah. He is only the sixth Aggie to achieve four-star rank.
He also attended Squadron Officer School and Air Command and Staff College at Maxwell Air Force Base in Montgomery, Alabama, and the National War College at Fort Lesley J. McNair, Washington, D.C. While at A&M, he was a Ross Volunteer, Distinguished Student, Outstanding Military Student, Commanding Officer, 2nd Group Staff in the Corps of Cadets, as well as a member of MSC Town Hall Committee, MSC Great Issue Committee and the Apollo Club.
General Hornburg served as a forward air controller in the Vietnam War and has commanded at all levels – flight, squadron, wing, numbered air force and major air command. A command pilot with more than 4,400 hours in 12 different aircraft, he served as Commander, Air Combat Command, which operated more than 1,200 aircraft, 25 wings, 15 bases and more than 200 operating locations worldwide.
He retired as commander, Air Combat Command in 2005 after 36 years of service to the USAF. He continues to serve the aerospace field as an Aerospace Industry Consultant. In retirement, Hornburg has served as director of the Armed Forces Benefit Association, an insurance company founded by General Dwight D. Eisenhower to assist military members. He is a trustee of the Southwest Research Institute in San Antonio, director of the Fisher House, a foundation that assists military families, and is a senior advisor for Segs4Vets, a program that provides Segways for American disabled veterans in Iraq and Afghanistan.
General Hornburg has served as a board member of The Association of Former Students and a member of the President's Board of Visitors. He also serves on the President's Board of Visitors for the Corps of Cadets and the President's Advisory Council Strategic Planning Committee. He is a past chair of The Association of Former Students and an Endowed Century Club Member. He often returns to the campus often to speak to cadets about leadership and the military.