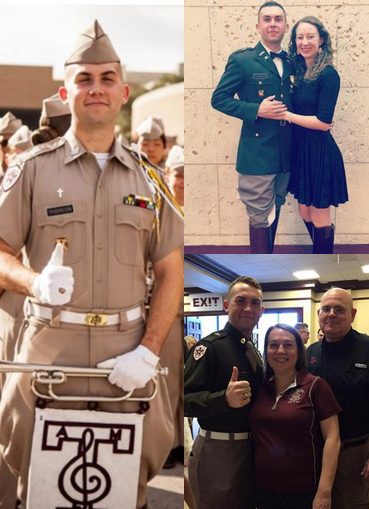 Duncan Thornton '17 is an Industrial Distribution major with a minor in business from Huntsville, Texas. He is the eldest son of Joe and Melissa Thornton. Duncan's younger sister just started her freshman year at Sam Houston State University.
Duncan is a member of the Fightin' Texas Aggie Band, and began his fish year as a B-Company Street Fighter. He served as a Fire Team Leader his sophomore year. As a junior, he joined Combined Band Staff as the Aggie Band recruiting sergeant. This year, he serves as the Recruiting and Public Relations Officer, as well as the Combined Band Chaplain. Duncan is also a member of the Fightin' Texas Aggie Band Bugle Rank.
Duncan is active in a number of Corps special units. He was a member of the Darling Recruiting Company his sophomore year, where he led tours to prospective high school students interested in the Corps of Cadets. He was selected to the Ross Volunteer Company his junior year, and now serves as one of the two Public Relation sergeants on the company's staff.
In the summer of 2016, Duncan was accepted into the Global Distribution Study Abroad Program. This 5-week intensive program allows selected undergraduates majoring in Industrial Distribution to travel to China and partner with an industry to tackle a real world challenge that they face. Duncan received hands on experience in the industry challenges that other countries face, as well learning much about a different country's culture.
This year Duncan was hired by the Talent Incubator Program, another opportunity offered by the Industrial Distribution Department. As part of the program, he is partnered with a company located in Texas to work on a specific project that the company needs completed.
Duncan will graduate in December 2017, and plans on working in sales for a company that matches the values he has learned from the Corps of Cadets and Texas A&M University. We are proud of his accomplishments, and know Duncan has a bright future ahead. He embodies all that we expect of our cadets, and will be successful in all that he does in the future as a result.