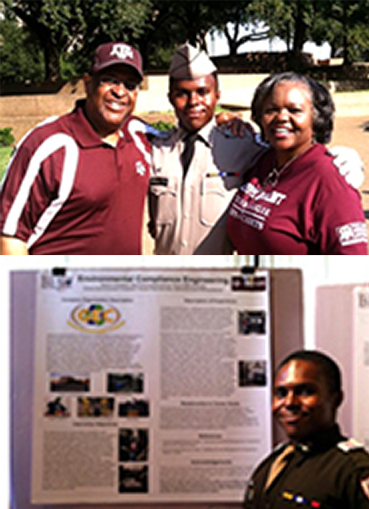 Drew Pendleton '15 is a Bioenvironmental Science major from Arlington, Texas, and the son of Jerry and Robin Pendleton. He will serve as a Flight Leader in Squadron 20 for the 2014 – 2015 school year.
Within the Corps, Drew is the Commanding Officer of the Cultural Awareness and Diversity Expansion Team (C.A.D.E.T.), a special unit dedicated to providing a diversity education and professional development program for the Corps through cultural, international, and professional workshops and events. As C.A.D.E.T. Commander, his duties include leading, organizing, and promoting events that develop leaders with the skills and knowledge for global leadership in a diverse environment. As a member of Squadron-20, Drew has served as the Operations Corporal and Sergeant, a Fire Team Leader, Squad Leader, and now Flight Leader.
Outside of the Corps, Drew serves as the Vice President of the Texas A&M student chapter of the National Association of Environmental Professionals (NAEP), an organization dedicated to the development of students of all majors who are interested in the environmental sector. As Vice President, Drew invites speakers from career fields in the environmental sector such as consulting, research, laws and regulations, and engineering to speak to NAEP members about their professions, resumes, goals, and internship and career opportunities. He was also an Executive Director of Marketing for the MSC Woodson's Black Awareness Committee, an organization that provides students the opportunity to develop leadership skills through planning, coordinating, and implementing quality cultural programs that will enhance the multicultural experience of the entire campus community.
After graduation in December 2015, Drew plans to attend the School of Public Health, Texas A&M Health Science Center, where he will pursue his Masters of Public Health in Environmental Health. He has aspirations to work in the environmental health sector with either the Centers for Disease Control and Prevention (CDC) or the U.S. Environmental Protection Agency (EPA) as a microbiologist.
Drew is a well-rounded and dynamic young man who has taken the opportunities to lead, both in the Corps and across campus. His role as the Commander of the C.A.D.E.T. organization has been significant, as he has been instrumental in increasing opportunities for cadets to work and collaborate in a multi-cultural, diverse environment. His interests and skill sets outside of the Corps have helped prepare him for his future aspirations to become a microbiologist and lead in the health sector. I have every confidence that Drew will do well in his pursuit of his Masers in Public Health and go on to great success in the field of environmental health in the future. Drew truly embodies what Selfless Service and commitment to others is all about!