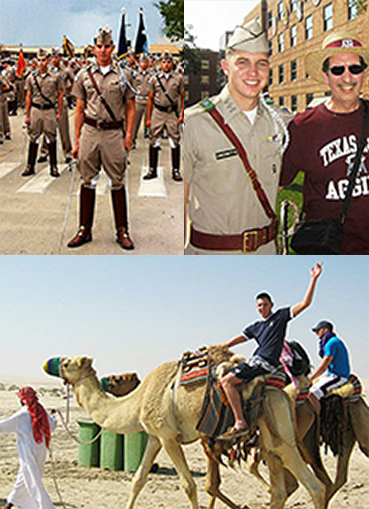 David Canzonetta '14 is a Computer Engineering major from Pflugerville, Texas, and is the son of Barbara and David Canzonetta. David served as the 2nd Wing Commander for the 2013 – 2014 school year.
Active within the Corps, David served as a Squadron 21 Platoon Sergeant and Guidon Bearer, is a member of the Ross Volunteers and O.R. Simpson Honor Society, and was named a Distinguished Graduate at U.S. Air Force Field Training in 2012 – given to the top 10% of AFROTC cadets within a flight during a four-week leadership evaluation. He was also a part of the January 2012 Corps Excursion to Qatar.
Outside the Corps, David has been active staffer of Aggie Awakening, a church retreat sponsored by St. Mary's Catholic Center, since his fish year. He will be interning with Dell Computers for the summer of 2014 to sharpen his programming skills learned at Texas A&M.
David plans to commission into the U.S. Air Force upon graduation in May 2015 and aspires to serve as a Developmental Engineer.
David is an exceptional young man who has served as 2nd Wing Commander with honor and integrity. He is an intelligent, articulate, and personable young man who will no doubt have great success as an Air Force officer in the future. He has been a superb role model for the younger cadets, and he led by example in all that he did. He is destined to be a leader in whatever he does, and his abilities and personality will carry him far in whatever he does. I'm very proud of all that David has accomplished in the Corps of Cadets, and look forward to seeing him succeed as a true "leader of character" in the future. He is going to make all of us extremely proud.