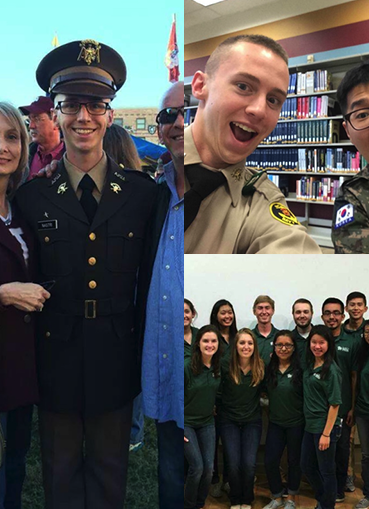 Clark Nastri '17 from Richmond, Texas is the son of Steve Nastri and Grace Clark. He is a Supply Chain Management major with a minor in Economics, a certificate in International Business and, a certificate in Leadership Studies. He is currently serving as a Squad Leader for Company A-1.
Clark served as Recruiting Corporal and Fire Team Leader for Company A-1 during the 2014-2015 school year, and most recently as the Scholastics Sergeant. While in that position, he assisted in creating a grade tracking website, and in restructuring the Scholastics Sergeant's responsibilities. His efforts resulted in the outfit winning the J George P.F. Jouine Flag for Academic Excellence during Parents Weekend this year. Clark is a member of the O.R. Simpson Honor Society and also assisted with recruiting efforts in his hometown of Richmond, Texas. Next school year he will serve as the 1BDE Professional Development Officer and, is participating in the Corps of Cadets international excursion to Israel in May 2016.
Clark is just as involved off the quad. He is the Director of Advocacy for Aggie Habitat for Humanity, where he often speaks to local radio and television programs to promote the organization. He also served as an orientation leader and tour guide for the 2015 Aggie Orientation Leader Program where he helped to welcome new students and their families to A&M. In 2014 he gave up his time to help students at Navarro Elementary as a HOSTS Mentor, where he tutored elementary school students struggling with reading and writing.
This semester, Clark was an exchange student at EM Strasbourg Business School in Strasbourg, France. While studying abroad he served as an International Association of Students in Economics and Commercial Sciences (AIESEC) Strasbourg marketing member and delegate for the AIESEC France Conference in Paris, which is the largest international student organization in the world.
"Deciding to study abroad at the EM Strasbourg Business School in France was hands down one of the best decisions of my life!" Clark said. "My eyes have been opened to the world. When I come back to Texas I'll be bringing back more than I left with, memories and life lessons that I intend to share with my friends, family, and fellow Aggies."
After graduation he plans to work in a supply chain management position in Asia or Europe, and eventually start his own company. He plans to continue his community involvement and be a leader wherever life takes him. I have no doubt that Clark will continue to do great things. His achievements and involvement truly show just what an amazing young man he is. I wish him nothing but the best and I know he will continue to make the Corps of Cadets proud.