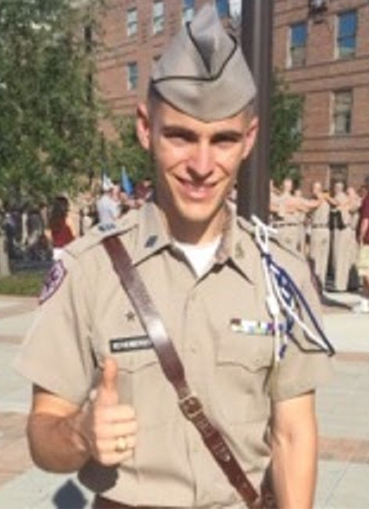 Rouel Rothenberger '18 is an Electrical Engineering major with minors in Math and Chinese. He is from Kingwood, TX and is the eldest son of Trey '91 and Kristi '90 Rothenberger.
Rouel currently serves as the 2nd Wing Scholastics Officer. Originally from Squadron 16, he served as a Fire Team Leader and Scholastics Corporal his sophomore year. As a junior, he was the Scholastics Sergeant and Chaplain for his unit. Within his own outfit, Rouel implemented new scholastic policies such as mandating academic planners for underclassmen. This policy has been adopted Corps-wide thanks to his collaboration with the Corps Scholastics Officer, Thomas Matthew.
In 2015, Rouel received a Project Global Officer (GO) Scholarship, allowing him to travel to Qing Dao, China for a 12-week study abroad program. Later in his sophomore year, Rouel joined the O.R. Simpson Honor Society and has helped tutor fellow cadets every semester since. Rouel is currently participating in the Hollingsworth Leadership Excellence Program and will receive a Certificate in Leadership Study and Development this spring.  Off the quad, Rouel serves as a senior officer in the Texas A&M Virtual Reality Club and has been a member since its creation in 2016. He has also been a member of the Chinese Language Club since 2015.
Rouel plans to take one extra semester at A&M and graduate in the fall of 2018. After he graduates, he plans to go to law school to become a patent attorney. Ultimately, Rouel hopes to become an intellectual property strategist. Rouel is a goal-oriented cadet with a drive to be the best he can possibly be.