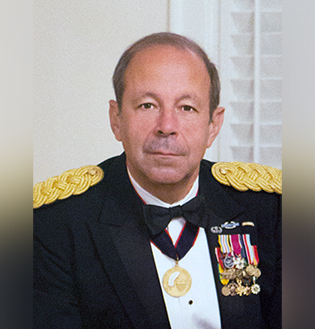 General Solymosy, born in Budapest, Hungary, is a naturalized United States citizen. He received Bachelor's and Master's Degrees in Business Administration and a Bachelor's Degree in Mechanical Engineering from Texas A&M. As a cadet, Solymosy was a member of A-Ordnance and was Athletic Officer in Company F-1. He was active in the Aggie Players and the American Society of Mechanical Engineers. He is a graduate of the National War College and attended executive development courses at Michigan, Maryland and Harvard Universities.
While in the Army he served two tours in Vietnam and held various command and staff positions in the United States and Germany. His last active duty assignment was Chief of the U.S. Office of Defense Cooperation in Athens, Greece.
His military honors include the Defense Superior Service Medal, Legion of Merit, The Order of the White Plume, the Combat Infantryman's Badge, Parachute Badge, Ranger Tab, and awards for valor in combat from the United States and Vietnam.
During the 1990s Solymosy worked in international business and real estate asset management in Houston where he served on the boards of Southern National Bank and the Foundation for Financial Responsibility, and participated in numerous civic organizations. In 1993, he was appointed the Honorary Consul of the Republic of Hungary. Solymosy was the Director of Development for Student Affairs at the Texas A&M Foundation from 2002 until 2006. Currently, he is a director of the MINT National Bank in Kingwood and serves on various councils and as an advisor to student programs at Texas A&M.
Solymosy speaks Hungarian, German, Greek and Vietnamese. He and his wife, Ellen, reside at their home, the Bar O S, in Brazos County, where they raise Boer goats and Palomino Quarter Horses. Their three sons, Texas A&M graduates, were members of the Corps.