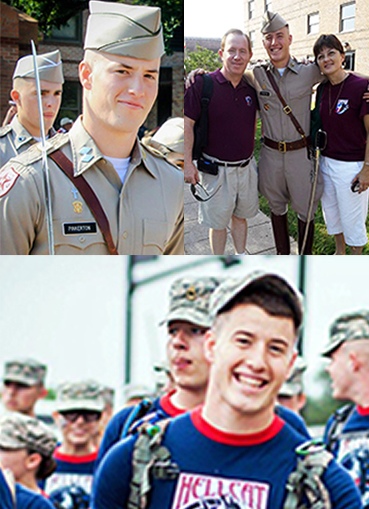 Benjamin Pinkerton '14 is a Psychology major from Saginaw, Texas, and the son of Sharon and John Pinkerton. Benjamin is a member of Squadron 21 and is serving as the Corps Chaplain, Retention and Morale Officer for the 2013 – 2014 year.
Active within the Corps of Cadets, Benjamin served as the Squadron 21 Outfit Chaplain his junior year and is a member of the Campus Crusade for Christ for ministry in the Corps. He has also been very active in intramurals with Squadron 21 teams as quarterback for football, goalie for soccer and a member of the softball team.
Outside the Corps, Benjamin served as the Freshman Class President and was a member of Freshman Leaders in Christ and Class Councils. He has been very active in Impact, an annual 4-day retreat for incoming freshmen at Texas A&M University and Blinn College that aims to connect freshmen with Christian students as well as local churches and ministries in the Bryan/College Station area. As a freshman, Benjamin served as a counselor at Pine Cove Christian Camp and went on a military ministries mission trip to Panama City, Panama, to their National Police Academy. He also plays on several non-Corps soccer, softball, volleyball and football intramural teams.
After graduation in May 2014, Benjamin will begin a full-time internship with Campus Crusade for Christ at Texas A&M – with whom he has worked the past three years – that will focus on the Corps. He aspires to become a youth pastor with the eventual goal of becoming a senior pastor in a church.
Benjamin is an outstanding young man who strives to set the example in all that he does, both personally and professionally. He is driven by his positive and directed outlook on life, which includes a deep and abiding faith. He willingly strives to reach out to others, including helping in the community and encouraging and motivating others to strive to be the very best that they can be. He is truly an inspirational young leader, and I have no doubt that Benjamin is going to continue to make a big impact with all that he gets the opportunity to selflessly serve. I know he is going to achieve great success in his life goals and will continue to serve his fellow man, community and nation in an honorable manner.