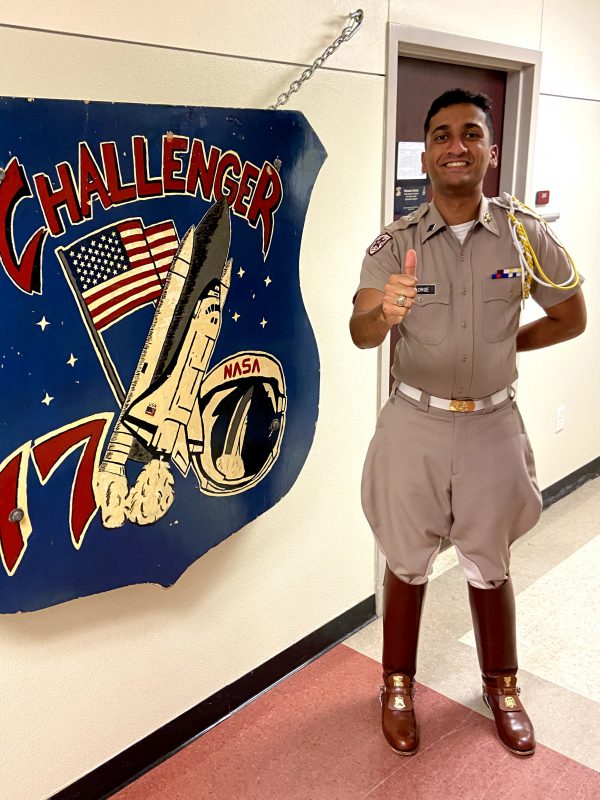 Aaron Shaji George '21 is a Material Science and Engineering major from Missouri City, Texas. Born in Al-Dammam, Saudi Arabia, Aaron's journey as a cadet began when his parents, Shaji and Jolly George, made the decision to move to the United States. Aaron is a member of 1st Wing Staff and currently serves as a Corps Housing Officer and Logistics Officer.
On the Quad, Aaron is very active within the Corps of Cadets. Originally a member of Squadron 17, Aaron served as the unit's Scholastics Corporal, a Recruiting Corporal, and as a Fire Team Leader. Aaron has also served as the outfit's Inspector General Sergeant, Discipline Sergeant, and Logistics Sergeant. As a junior, he was inducted into the Ross Volunteer Company and, as a senior, currently serves as the Company's Operations Officer.
Off the Quad, Aaron has been a Fish Camp counselor, Big Event Staff Assistant, Muster Host, and currently works as the Plank Leadership Learning Center Team Lead on campus.
Upon graduation in May 2022, Aaron hopes to attend graduate school and work in Houston near his family after finishing his degree. "It's been a rewarding and humbling experience so far, and I cannot wait to see what God has in store for me!" he said. We are thankful for Aaron's dedication to the Corps and are confident in his future success. Good luck and best Wishes, Aaron!